Progressive Pet Insurance
Are You Seeking To Get Your Pet Insured? Whether you have an overactive dog always running around the house or a timid cat regularly chewing on random stuff, accidents happen and that's where a reliable pet insurance plan can come in handy to save you from stress and excessive spending. Are you in search of affordable pet insurance that you can trust? Then look no further! Progressive Pet insurance is everything you seek. Progressive Pet Insurance offers accident and illness pet plans that allow you to choose your deductible of up to $50 - $100, reimbursement percentage (70-90%), and annual limit ($5,000 or Unlimited). Unlike most pet insurance programs, Progressive Pet insurance allows pet owners to fully customize their pet insurance plans according to their budget.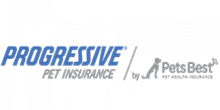 PROs
Customizable pet insurance plans
Fast claims processing and payment
Flexible payment plans
CONs
Some policies exclude exam fees.
Progressive Pet doesn't administer policies.
Absence of boarding cost.