Having a pet can be one of the most rewarding experiences in life. Caring for and foreseeing the needs of your pet is part of the responsibility of pet ownership. A great way to prepare yourself is to Embrace Pet Insurance. A costly bill from the veterinarian can easily mess up a monthly budget. With a pet insurance policy, you can be proactive and take the steps to make sure your furry friend gets the care they need without breaking the bank. Embrace primarily offers one comprehensive accident and illness policy with the ability to fully personalize your policy parameters to choose from. We primarily offer one comprehensive accident and illness policy with the ability to fully personalize your policy parameters to choose what works for your budget and needs. Embrace is one of the biggest pet insurance providers in the U.S. and they're growing. Their business model centers around innovation which has resulted in an incredible online customer portal. You can file a claim, check your pet's medical records and so much directly on their website. In addition to having some amazing features for their customers, Embrace also gives back. For every policy they open, they give $2 to pet charities.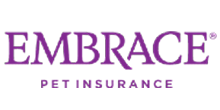 PROs
Insurance Plans Designed with Your Pets in Mind
Up to 90% Back on Bills at any Vet
Optional Wellness Rewards Plan
Diminishing Deductible
CONs
Pets' preexisting conditions are not covered.
The pricing system isn't transparent.
Only animals aged 1 to 14 will enjoy comprehensive plans.
Should I consider Embrace?
Embrace Pet Insurance is an incredible option. They've got a team committed to helping you choose a personalized pet policy plan, claims reimbursement, and wellness. Unlike other pet insurance providers, Embrace offers an optional Wellness Rewards Plan that will reimburse you for the cost of everyday pet expenses like grooming and training. That's a great perk for pet parents who really go the extra mile. The customer portal, "My Embrace" is also a step above the rest. You can review details of your policy, file a claim, access your pet's health records, and get any questions you have answered all from the online portal. It's a great tool that will allow you to stay on top of it all. Embrace is a great pet insurance provider and you should get a free quote from them to see if they'll be a good fit for you and your pet's needs.
*Pet health insurance is administered by Embrace Pet Insurance Agency, LLC and underwritten by one of the licensed insurers of American Modern Insurance Group, Inc., including American Modern Home Insurance Company d/b/a in CA as American Modern Insurance Company (Lic. No 2222-8), and American Southern Home Insurance Company. Coverage is subject to policy terms, conditions, limitations, exclusions, underwriting review, and approval, and may not be available for all risks or in all states. Rates and discounts vary, are determined by many factors, and are subject to change. Wellness Rewards is offered as a supplementary, non-insurance benefit administered by Embrace Pet Insurance Agency in the United States. © 2021 American Modern Insurance Group, Inc. + Wellness Rewards not available in Rhode Island.